It's important to know that you are financially protected should anything happen.
If you or a member of your family were diagnosed with a serious illness or were to die, it goes without saying that the emotional upset would be huge. But it's likely there would be financial implications too, at a time when this is the last thing you need to be thinking about.
Have you thought about how your family would cope financially if illness prevented you from working or if you were no longer around? Would they still be able to pay the mortgage and household bills each month?
We've partnered with Zurich Insurance to provide competitive life cover and critical illness protection. Zurich are a trusted, global insurer offering Anthony Jones' customers life and critical illness protection at affordable prices.
Quality cover from Zurich
Zurich's life insurance provides one of the highest quality offerings in the market and has been given a 5 Star Rating by Defaqto.
Their critical illness insurance, which can be bought alongside life insurance, covers 40 conditions and in 2018 they paid out in 91% of cases. The figure for life cover was even higher with 99% of UK claims settled. And when you take out critical illness protection for yourself and your family, your children are covered from birth until the age of 22, regardless of whether they are still dependent on you or not.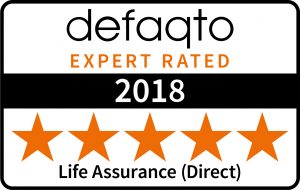 How much does financial protection cost?
The quotes below have been provided to illustrate the cost of protection at various ages. Prices for males and females are the same. Smoker rates are available and do increase prices considerably. Get a discount of up to 10% when you buy Zurich life or critical illness cover from Anthony Jones. Enter the code AJSAVE10 when getting your quote to receive a discount of up to 10% from Anthony Jones.
20 year level cover
Age
Life Cover
Life & CI Cover
30
35
40
£105,000
£20,000
£9.59
£12.46
£18.11
£125,000
£25,000
£10.97
£14.43
£21.20
£160,000
£40,000
£14.32
£19.42
£28.93
20 year level cover
Age
Life Cover amount
30
35
40
£105,000
£6.49
£7.50
£10.57
£125,000
£7.07
£8.23
£11.74
£160,000
£8.08
£9.50
£13.79
Prices accurate as at 31/01/2019. Based on standard non-smoker terms with no discount applied. Premiums are monthly.
How much life cover do I need?
Zurich's simple calculator will give you an idea of how much your loved ones would need if you weren't around.
In addition to the calculator, Facequote is a tool developed by Zurich to help you manage your finances in a fun and engaging way. Facequote is a selfie app that can guesstimate your age. It will then reveal how much life cover would cost per month based on the age generated. This app was developed as an easy way for you to kick start your research with life insurance and show how affordable life cover can be.
When is the best time to start thinking about life and critical illness protection?
For many people the trigger to start thinking about financial protection is when they take out a mortgage. Having the means to repay a large debt in the event of sickness or death is an important consideration at such a time.
Even if you haven't got a mortgage, you may want to consider life or critical illness protection. For example, if you have dependants and are the sole earner, providing some level of financial security in the event of your death or contracting a serious illness would be a sensible step to take. This is even more important if you don't have any savings to see you through a period of long term sickness or if your employer doesn't provide any kind of employee benefits package.
Choosing the financial protection that's right for you
What is life protection?
Life protection (also known as life insurance and life cover) is ideal if you want to protect your family with a fixed sum of money in the event of your death.  The level of cover remains constant throughout the life of the plan.
What is decreasing mortgage protection?
Decreasing mortgage protection tends to be taken out to cover the outstanding amount payable on a repayment mortgage. The sum assured is designed to go down in line with the mortgage debt so that the family home is protected if the insured dies unexpectedly.
What is critical illness protection?
Critical illness insurance provides you with protection if you suffer a serious illness and can't work for a while or have to stop working altogether.
Watch this video from Zurich for a full explanation of Critical illness insurance.
In this video a Zurich customer talks about his experience and how his Critical illness insurance made a difference to his situation.
Support when you need it
When you take out life or critical illness cover with Zurich, you get access to Zurich's support service. This is open 24 hours a day, 7 days a week, 365 days a year and is a freephone helpline providing assistance with any work, personal or family related matters. It is a confidential and independent service, available at no cost:
 to you and your family
bound by professional standards of confidentiality and disclosure of information
staffed by a team of experienced advisers.
More information
If you are interested in finding out more, Zurich have provided us with some useful information to help you decide what sort of protection is right for you.
Key features of the Zurich Life Protection Policy (May 2018)
Frequently Asked Questions
What does life insurance involve?
Life insurance pays out a pre-determined cash sum to your loved ones in the event of your death during the term of the policy. You choose what type of cover you need. The choices you make include how long you want the policy to run for, the amount of cover you want and whether you want the amount of cover to remain the same throughout the life of the plan or whether you want it to reduce each year (which is often the case if you are protecting a repayment mortgage).
When you apply for protection, depending on your medical history, you will either be accepted for cover straight away or your application will be referred. On the basis of the information you provide, you may be asked to attend a medical examination and/or your quoted premium may be increased.
What life insurance term should I get?
The term you choose (or length of time you would like to have protection in place) will depend on your reasons for wanting life insurance. For example, you may want to cover the life of an outstanding debt, such as a mortgage, or you may want to provide financial protection for your family until your children have finished their education. Everyone's situation is different which is why you have the flexibility to choose the term that's right for your own particular circumstance.
What life insurance is best?
This very much depends on your own requirements and those of your dependants. Level term insurance will pay out a set amount, chosen at the outset, if you die during the term of the policy.  Alternatively, you could opt for decreasing life cover if you want to protect a debt that is going to shrink over time. You may also want to include an element of critical illness insurance if you would like to receive a lump sum in the event of you contracting a serious illness, such as cancer, that jeopardises the financial security of you and your family.
What life insurance should I choose?
The sort of life insurance you choose will depend very much on what you want to protect. For example, decreasing term insurance is ideal if you want to cover a repayment mortgage as the sum insured will go down roughly in line with the value of the outstanding loan.  If you want the sum insured to stay the same throughout the life of the policy, then level term insurance is worth considering. And critical illness insurance may well fit the bill if you'd like to provide yourself and your family with financial protection in the event of a serious illness.
What does life insurance cover?
The cover provided by life insurance depends on what you choose when you first take out the protection. If you opt for level protection, your dependants will receive a lump sum (the amount of which is selected by you at the outset) if you die during the term of the policy. If you choose decreasing term insurance, the sum insured will reduce every year.  Critical illness protection pays out a lump sum in the event that you contract one of the 40 serious illnesses covered by Zurich. You can see a full list of the conditions covered by Zurich here
For full cover information please see the plan terms and conditions.
What life insurance premiums are tax deductible?
Life insurance premiums are treated as a personal expense and are not tax deductible. This applies whether the premiums are paid by the life insured themselves or by another person.
I have just given up smoking. Can I get cover as a non smoker?
If you were a smoker in the past you may be able to benefit from cheaper premiums straight away.  Rates are adjusted on a sliding scale from smoker to non smoker over a period of 5 years. Full non smoker rates are available once you have been a non smoker for more than 5 years (this includes cigarettes, cigars, pipes, e-cigarettes and nicotine replacements, such as patches).